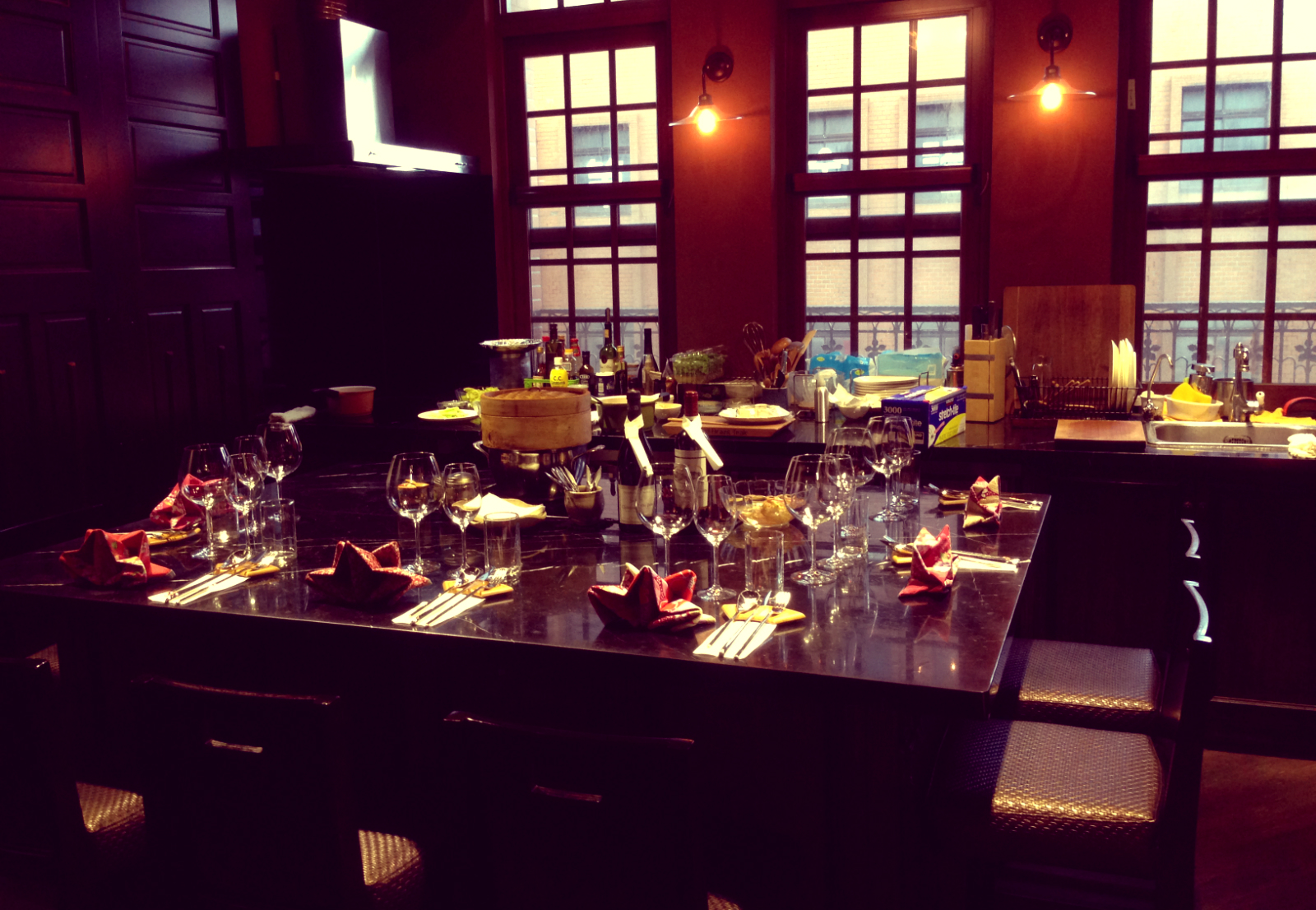 Fleisch 福來許
(Mobile user? View this post as a blog entry.)
When the landlord of #76 Dihua Street (迪化街一段76號) completed a three-year renovation project on the four-story building, he found himself with a bit of a dilemma. Throughout its history, the location had always housed businesses selling Chinese medicine, and the building's owner hoped to once again find a family-run medicine shop to rent to. Therefore, when approached in 2012 by entrepreneurs Claire Juan and Sean Lin with the idea of opening a restaurant, the landlord was wary. Who were these young outsiders, and would their plan succeed? Should he rent to them, or wait for another tenant that might potentially make a better fit for the neighborhood?
Like a true Dadaocheng native, the landlord's elderly mother made the obvious suggestion: ask the City God. As arguably the oldest resident of Dadaocheng and the building's nearest neighbor, the deity deserved to be consulted. Thus, the owner headed to the Taipei Xia-Hai City God Temple (台北霞海城隍廟) located just across the street, and approached the City God with his query by using divination blocks (筊杯, pronounced in Taiwanese as roughly "bwa bway"). With three positive responses (one block facing up, one block facing down), it appeared that the City God was pleased with the proposal. After another query to the goddess Mazu (媽祖) at the nearby Ci Sheng Temple (慈聖宮) yielded the same result, the matter was settled and at the end of 2012, Fleisch (福來許) became Dadaocheng's newest restaurant.
Today, the team at Fleisch strives to stay true to Dadaocheng's history and local flavor. Owner Claire Juan, a history buff who has conducted a great deal of research about Dadaocheng's tea and coffee culture, has outfitted the staff in uniforms similar to those found in the local cafes of the 1920s, which were themselves modeled after the European and American styles of the Jazz Age.
The interior of the restaurant, though fully refurbished, maintains its vintage character with accents like antique furniture, window frames, and the distinctive sliding wooden doors familiar to any visitor to Dadaocheng.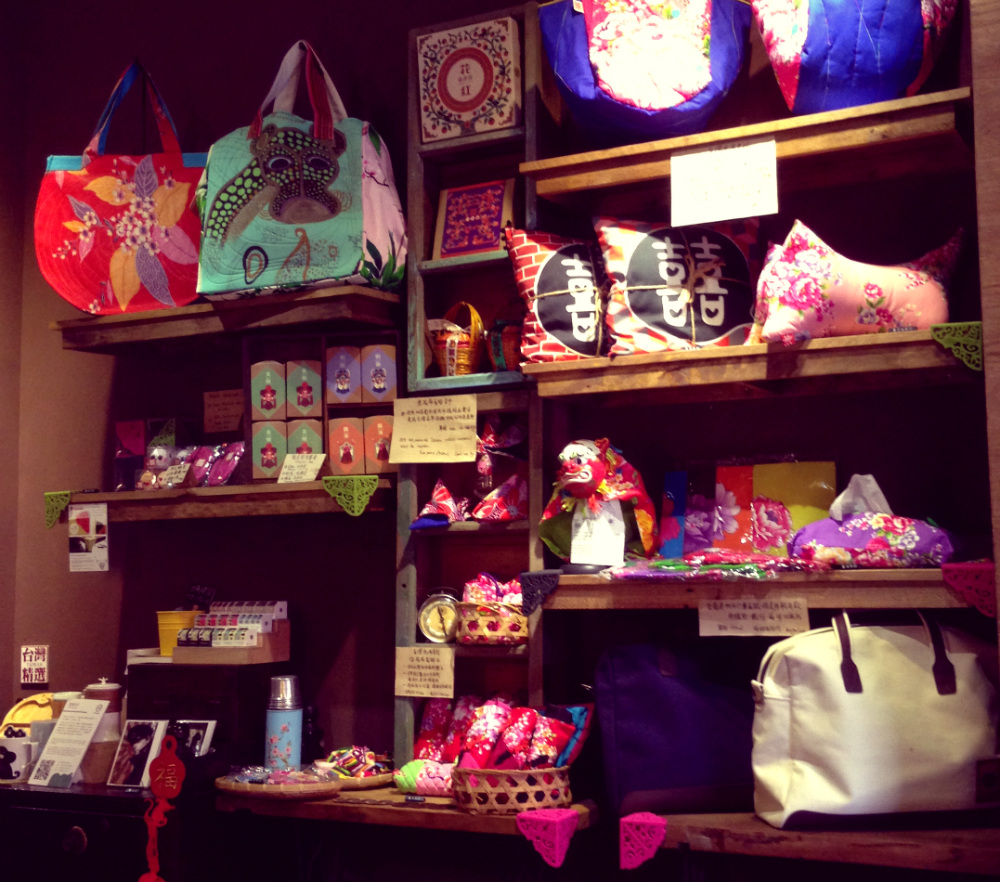 Fleisch also likes to feature local designers, including pieces made from the traditional floral Hakka fabric that is a mainstay of Dadaocheng's Yong-Le Fabric Market (永樂布市) and the area's countless fabric shops.
Fleisch's own in-house designs are available as well, including three kinds of tea and freshly baked 月老棒蛋糕, a special cake made to be used as a tribute to Yue Lao, the Old Man Under the Moon (月下老人). The cake is presented in a traditional basket with ribbons bearing symbols of love and Fleisch's own 福 (happiness) logo.
Another Fleisch branded treat is its ice cream, available in the first floor freezer case in flavors like coffee, sweet potato, mulberry, or Hami melon. It comes packaged in a box resembling a traditional Taiwanese wooden lunchbox.
Although there are numerous longstanding restaurants and street vendors throughout the neighborhood, some of which have been open for several generations, Fleisch is currently one of the only full-service restaurants on Dihua Street with indoor seating. Its open kitchen on the first floor provides lunch and dinner seven days a week.
Just like Dadaocheng's eclectic mix of east Asian and western styles, the menu at Fleisch presents a variety for visitors to choose from. There are daily lunch specials, as well as everyday items like this fantastic chicken sandwich.
Aesthetics are important at Fleisch, so every item on the menu is presented beautifully, often with wooden utensils and serving dishes. Even the tea is served in locally designed mugs bearing the ubiquitous Hakka flower pattern.
For those who prefer something a little stronger than tea, Fleisch has a fully stocked bar, and is one of the few spots in Dadaocheng that remains open past midnight on the weekends for late night visitors. Most notably, the bar menu features Dadaocheng themed cocktails created for Fleisch by head bartender Ian, who makes use of locally sourced ingredients.
Among these is Old Taipei (老台北), an apple-flavored oolong tea cocktail that is usually garnished with fresh sliced apple. Other specialties include a local take on the mojito, featuring whole buds of roselle flowers (洛神花).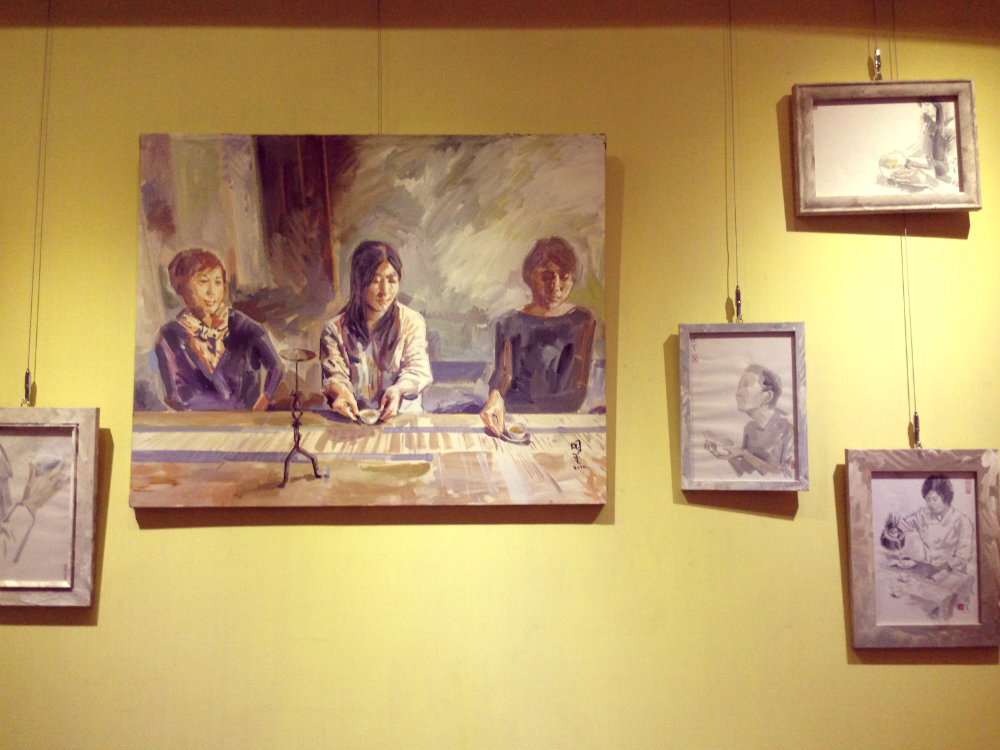 Visitors are invited to explore the premises of Fleisch even if they are not dining, and throughout the year there are various works on display by local artists.
A trip to the third floor yields many surprises, including Fleisch's lavishly designed private kitchen, which is gorgeous enough to inspire envy from any homeowner. The private space is open for public viewing, but is also available for reservations, and has been featured in numerous magazines and television programs. With private meals starting at roughly NT $1500 per person, Fleisch's chefs can cater small gatherings or romantic evenings in western or Taiwanese styles.
Hidden in the back of Fleisch's third floor, you'll also find a small ceramics studio, whose resident artist is on hand each week for both ceramics and fortune telling. Visitors with an interest in pottery can also sign up for lessons in the studio.
From its classic interior to its culinary tributes to local Dadaocheng ingredients, Fleisch manages to balance its newcomer status with a respect for the neighborhood in which it was born. If you find your belly empty as you explore Dadaocheng, or are in the mood for a cocktail you won't find anywhere else in the world, it's most certainly worth a visit.
Fleisch 福來許